Born in 1877, son of a winegrower, it was Louis Sirac who was the first to seek land suitable for making great Bordeaux wines and creating his own château. So in 1928 he acquired the first plots in Moulon, a small village in Libournais, located 7 km from Saint Emilion, giving birth to Château Le Porge. Louis passes on his knowledge and all his philosophy of the great Bordeaux wines to his son Pierre-André Sirac.
The transmission of the estate to his son Pierre Sirac gave a new dimension to Château Le Porge. The clay-limestone soils near the castle allow the production of sumptuous red wines. A little further, the highlands refine the perfect gestation of a high quality white wine.
Today it is Matthieu Sirac, born in 1977, who, after brilliant studies in Viticulture and Oenology, is still developing the estate with new lands allowing the range of wines to be extended. Its constant search for the best marriage between the typicity of the terroirs and the grape varieties, combined with the best winemaking techniques, now allows us to give the best of each plot of the estate. The range offered is rich and varied, offering Traditional red Bordeaux and Superior red Bordeaux, a Bordeaux-Clairet, a Bordeaux Rosé, a white Entre-deux-mers as well as two Bordeaux Crémants, white and rosé.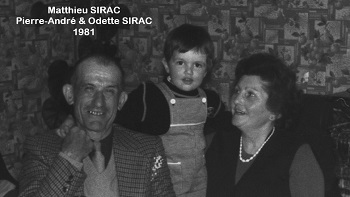 These wines are very frequently rewarded at the various wine competitions of Paris, Bordeaux or Macon and Lyon. They are also the subject of recommendations in the Hachette and Gault & Millau guides.
The new generation is already preparing: La petite Lilou has a great interest in the life of the property and already has a flagship cuvée from the estate to its name.